FIVE DAYS TILL THE BLOODY LONG WALK ....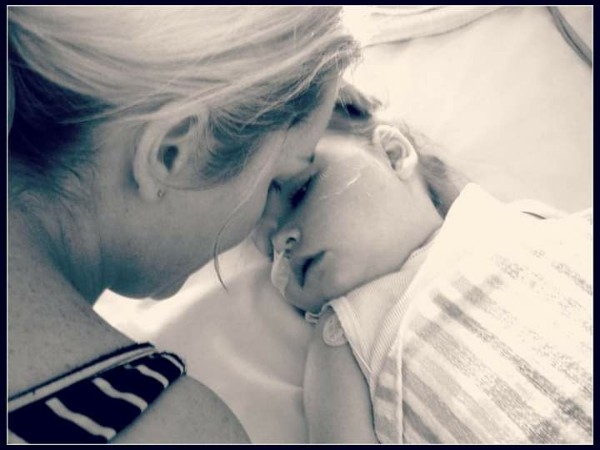 JUST WANTED TO SAY A HUGE THANKS TO EVERYONE WHO HAS DONATED AND TO MY TEAM MEMBERS WHO ARE WALKING THIS YEAR !!!!!
lots of love xxxxxx
We're walking for the 5th time this year with Stella's memory and smile in our hearts
This year will be Stella's Galaxys teams 5th year walking !
Stella was only a few months over 1 years old when she presented with a seizure that couldn't be stopped for 36 hours. From that day back in 2011 our whole lives had been turned upside down.
Stella was in intensive care for 3 weeks. Our hearts were broken and we had no answers as to why she was so unwell. She was then let onto the children's ward where she stayed for months. She could not eat, She could not sit up . She was not the same girl. 
We were all in a fog and did what we had to do. Shifts at the hospital, rosters on for family, all the while we had Jett her younger brother a new baby. 
Those 8 months were soul destroying. No one should have to watch their own child slowly deteriorate right in front of your eyes. I hope with further funding one day this will never happen to another family.
We walk again this year for all those families battling mitochondrial disease, in all different forms and we walk for Stella, my baby girl who fought so damn hard
CHELS AND THE WHOLE STELLA'S GALAXY TEAM xxxx
Thank you to our Sponsors B & C Wayne Proctor Cc P & C Pty Ltd Ron De Bruyn
Carol Davies Hayley Swaffield Warner Robson Anonymous
Rolf Harris Anonymous Great Great Auntie Sue & Great Great Uncle Erin Chelandra Charlie Rostron
Jodie Hilton Amanda Batt Kev Harm Shutters Direct Somewhere Over The Rainbow Somewhere Over The Rainbow Sarah Cattell Ny Dance Pty Ltd Michael Hockley Dieter Clarke Michael Hockley Leonie White Barbara Jensen Sheree Todoreskov Bek Carter Scott Marshall Heni Horvath Julie King Stephen Tyler Anonymous Melanie Durack Annie Messenger Connor, Jayden & Sienna Claire Jenkins
Lyric And Evie Pocklington Neisha Cass Counselling & Equine Assisted Therapy Sandra Leathwick Lewis Family Claire Jenkins Greg Davies Scott Thornes Sally Forbes Kate Bryant Caitlyn Debbie Fox David Christopher C&j Allison Lukan Jc Dianne Ritchie Richard Hickling Static Rivals - Kendra, Clint And Amy Adam Harm Tina Rostron Rebecca Kroes Marley & Shylah
O'byrne Family
Jody Hammel
Natalie Lock French Family Warner Robson Kayla Marshall Anonymous Ange Hannah Gutke Anonymous Christina Winkler Hilary Leventis Vicki Abraham Nicki Walsh Dee, Guy, Ashton And Connor Xx Sludge Michael And Nicole Vella Deborah Iongi Jessica Dycueco Emily Koser Tony Bate Daniel Davies Tyler And Emily Gooch Leanne Widelewski Dianne Forbes Matt Krause
Nik Anonymous Naomi German Kerrie Robertson
Nadine T Photography Ren Von Nikketah Cuneo Amanda Claussen Wendy Grima Jasen & Kerrie Johnson Liz Withers Karen Burton Mark Somerville Nenad Pampered Homes Theresa Thurlow Smith Ross Aleesha Peckman Anna Olszanowski Shelley Nailon Katie M A Williams Dave Grant Ree Davers
Jaron Davies
Erin Shan Freeleagus Linda Magill Josie O'brien Tony Patch Erin Julie Cox Julie Russell Cresta Nickl
Dennis Ferguson
Bill Cosby
Mia Khalifa
Richard Hickling
Vanessa Felch
Anita Dick
Willie Stroker
Dixie Normous
Jack Kanoff
Corey Worthington
Kim Jong-un
Phil Mccrackin
Tommy Salami
George Pooney
Rod Longstaff
Ronald Mcdonald
Steven Tyler